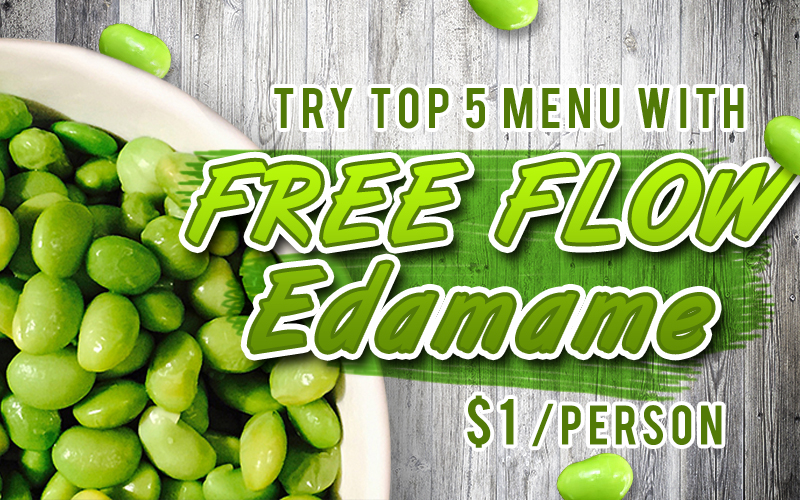 Try Top 5 Menu with FREE FLOW EDAMAME! ($1 /person)

Don't miss our Special offer for you guys, try our Top 5 Menu with FREE FLOW EDAMAME!
Terms & Conditions
*Min $20 spent/ person
*Not Valid with any discount or in-store promotion
*Only Dinner time till 31st July.
Don't know what Sandaime Bunji can offer you? Then read on to know more!
Top 5 Menu at Sandaime Bunji!
5. Mochi Mochi Cheese Age サクッともちもちチーズ揚げ $9.90
4. Home Made Chigiri Edamame 自家製枝豆ちぎり $9.80
3. Gyutan 8P set 牛タン8枚セット $34.9
2. Dashimaki Tamago (Japanese Egg Roll) だし巻き玉子 $8.90
1: Wagyu Round Roast Beef Set 和牛もも肉のローストビーフ丼 (Limited 50 bowls every day!) $24.80
---
Call (65) 63331516 to Reserve
Terms & Conditions
* Min 2 pax.
---
Oden Mixed Platter 7P おでん盛り合わせ $28.90
---
---
Thick 1cm cuts from the cows of Sendai are used. The tongues are marinated over a period of time with Sandaime Bunji 's secret sauce , resulting in a very rich taste !
Apart from Gyutan, Sandaime Bunji also specialises in Oden . Taste Sandaime Bunji 's traditional 80-year old recipe and authentic ingredients !
---
Located at Millenia Walk, Sandaime Bunji specialises in authentic Sendai cuisine, featuring the tender Gyutan (grilled beef tongue) and refreshing Oden (Japanese soup-based winter dish).