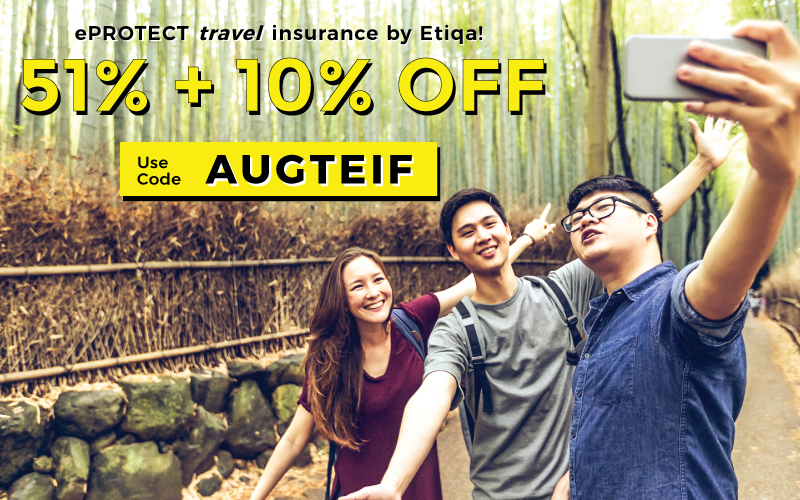 Get 51% + 10% Off ePROTECT travel insurance by Etiqa!
Enjoy automatic flight delay claims with immediate payout, and 24/7 worldwide emergency assistance so you know you're always protected on your travels.

Use code: AUGTEIF to enjoy this promotion!
Terms and Conditions
Additional 10% discount will be applied on top of any prevailing discount (i.e. ePROTECT travel's single-trip has an existing discount of 51%. Hence the additional 10% discount will be applied after 51% discount).
Coupon code will be valid for Fridays in August 2018 unless otherwise stated.
This promotion is only valid for all of Etiqa's General Insurance products when purchased through our online platform.
Etiqa reserves the right to change promotional mechanics.
This promotion is not valid in conjunction with any ongoing or existing insurance promotions, coupons, staff discounts and privileges, unless otherwise stated.
This promotion is not valid for customers who have cancelled or free-look existing policy/policies within the last 14 days.
Check out why should you get Etiqa's ePROTECT travel insurance to Japan!
1) High Medical Cost in Japan
Nothing dampens your well-deserved holiday more than a simple flu or a cold.
Besides the United States and Switzerland, Japan is amongst one of countries with expensive medical care costs! Don't be caught by surprise if your medical bill adds up to a bundle just because of a minor cough. However fret not, Etiqa's ePROTECT travel insurance, your overseas medical expenses are taken care of for up to S$1,000,000.
2) Natural Disasters
Not surprising to many, Japan is a country that is prone to various natural disasters, such as earthquakes, volcanoes and typhoons. When unforeseen circumstances strike, you will not want to be caught in a situation where no assistance is made available to you. With Etiqa's ePROTECT travel insurance, simply ring our 24-hour free worldwide emergency travel support at +65 6327 2215 and you will be properly assisted!
3) Trip Cancellation
Nobody wish to suffer financial losses to cancel their holiday due to unexpected reasons such as sickness or injury in the family. However, if these incidents occur within 60 days prior to your departure, Etiqa's ePROTECT travel insurance will cover for your paid travel and accommodation expenses for up to S$15,000.
So wait no more! Get your travel insurance to Japan now!
Why Etiqa?
Check out full coverage details here.
---
Customer Care Centre
16 Raffles Quay, Hong Leong Building
#01-04A, Singapore 048581

Monday – Friday: 8.45am to 5.30pm
(excluding Public Holidays)

Tel: +65 6887 8777
Email: customer.service@etiqa.com.sg